Starting something new can often be daunting, but as Janice found, it can be well worth a try. In a bid to help Janice build up her confidence, staff worked alongside her to think of activities she might enjoy. After learning about 'Perfectly Edible', a food recycling café, staff shared the idea with Janice, who was initially unsure. Facing her fears, Janice has bravely been attending the café, with great success…and her confidence? Better than ever.

Cassandra, a member of staff said:
"It came from an idea sharing session within a team meeting in September on how we could support Jan to build her confidence up. One of the staff have been there with another person we support and thought that it may be something that she would enjoy. So, by taking some of Jan's home comforts and taking it slow, it has worked out really well."
Janice has since been supported to write the article below, which will feature in the next edition of The Mag, a magazine produced for and by the people we support at MacIntyre.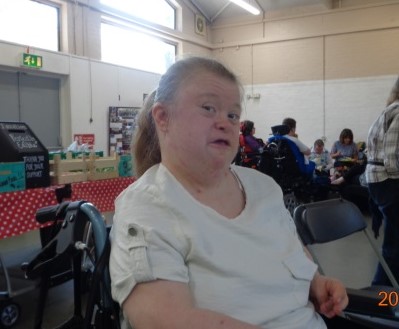 Trying something new - by Janice
Hi, I am Janice and I live in Leicestershire, I have recently started a new activity at a community project called Perfectly Edible UK.
They are a not for profit company whose main objective is to reuse surplus food that would otherwise have been sent to landfill. They have community café each week where you can enjoy a three-course meal made entirely from surplus food.They also have a "pay as you wish" market stall where you can buy fresh food and household items for a small donation.
I attended the community café recently and it was so nice to be part of a social setting that I felt comfortable in. I am very much a people watcher and this café was ideal, as everyone was so friendly and welcoming.
I hope to make this my new activity, after all, it is not just about the food, although the pudding was lovely! It is also about getting out and about in the local area, improving my health and well being, reducing the environmental impact of food waste and giving back to the community.
We're hiring!
Did you know we are hiring in Leicestershire? Visit our vacancies page, or get in touch with our friendly recruitment team to find out more.