Seven people, three years, one meeting a month and a host of fantastic resources created in record time; meet MacIntyre's 'Keep Going....... Don't Stop!' group.
Today, we are delighted to announce that the group, who consist of seven people with learning disabilities, have been chosen as winners of the Dimensions 'Learning Disability and Autism Leader's List 2019' in the category of 'Work and Education'.
Since 2016, the 'Keep Going.......Don't Stop!' group have been meeting once a month in Chesterfield, to discuss challenging health topics; working together to produce easy read documents that support people with learning disabilities to understand these topics and take action.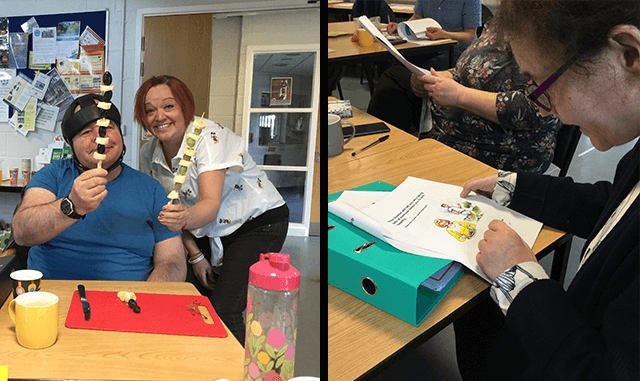 MacIntyre's Heath, Dementia and Wellbeing Manager Sarah Ormston said:

"The Keep Going…….Don't Stop! team are an incredible group of people, who achieve outstanding accomplishments. They only have a chance to meet for a short amount of time each month, and we work at a meaningful pace that the group steers."
Sarah continued:
"They are committed to improving the lives of others around health, dementia and wellbeing and share all their work freely on our MacIntyre website to help others. I am so thrilled for all of the team members involved."
Some of the teams most notable work includes resources on, 'Planning a Visit to the Doctors', 'Vince has Dementia' to explain what dementia is and how it affects people. Most recently, the team were proud to share their work with the National Dementia Action Alliance, turning the 'Dementia Statements' into an easy read format.
Not only have the team helped to create essential documents on dementia and sepsis, but as a result of the meetings, each member has grown in confidence too.
Commenting on the group's personal growth, Meg Wilding MacIntyre's Health, Dementia and Wellbeing Administrator said:
"Each time we meet, which is only once a month, I see each member become more independent, beam with confidence, learn and understand difficult health topics and be proud of the work that they are creating. I've worked alongside each member now for almost two years, and words can't express how proud I am of everyone."
MacIntyre's Family Engagement Consultant, Nicola Payne who has worked with the group since the beginning added:
"Since we met in 2016 the team have become so much more confident and now question if there is something that they do not understand. I feel that this has happened because of the structure of the day, learning styles that suit each member and the resources available on the day. We all know what to expect on the day, in a way that makes sense to us all. We have a routine where every single person feels that they are contributing."
You can take a look at the team's work on Health, Dementia and Wellbeing in our Resource Library.
Congratulations to all of our nominees for the Dimensions Learning Disability and Autism Leaders List 2019, including Andrew Lawson, Ciaran Bradley, Keith Lomax, Rosie Joustra and Rachel Silver.


Do you find our resources useful?
We would love to hear if and how our resources helped you understand subjects relating to health, dementia and wellbeing in context of learning disabilities. Please get in touch with your feedback and suggestions. You can also signup to a newsletter - we will email you once a month with news relating to health, dementia and wellbeing.