For many of the people we support, taking up new or existing hobbies has been a lifeline during the pandemic. Our teams across MacIntyre are dedicated to supporting people to participate in their passions safely, which has helped people just like Shane regain focus during this challenging time.
Shane is supported by our team in Oxfordshire and has continued to receive support through video calls and regular walks since the pandemic began.
Before the most recent COVID-19 restrictions were introduced, Kaylee, a member of our team, found the perfect opportunity to support Shane and his love of drawing. Armed with easels and art supplies, Shane and Kaylee found a spot outdoors in their local park and got to work. For Shane, his signature artwork always includes a drawing of himself with his support team and this session was no exception.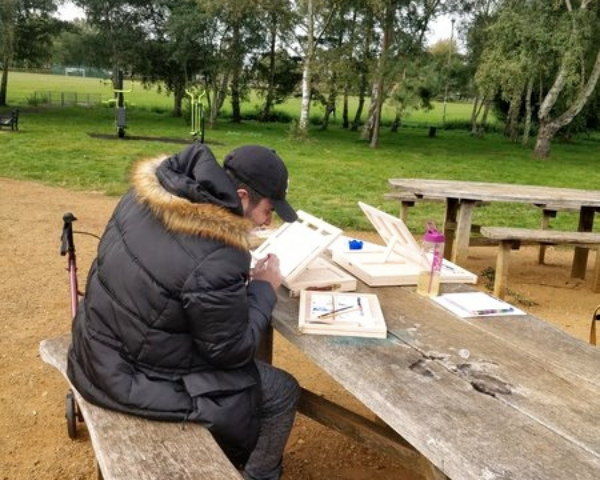 Shane has continued to thoroughly enjoy expressing himself creatively during the pandemic.
Kaylee said:
"Before lockdown, I knew Shane loved to draw and create pictures of him and his staff. Seven months down the line, he still thoroughly enjoys drawing him and his staff. As a Support Worker, I believe I have done a good job supporting when I get to see a smile at the end of the day."
We're hiring in Oxfordshire
Did you know that you don't always need experience in social care to join our team? We are seeking fun-loving, caring and passionate individuals to help support people to live as independently as possible, whilst providing the care and attention they need to live a life that makes sense to them.
To find out more about the current vacancies available, visit our Current Vacancies.